Thanksgiving Sharing is one of our oldest and most treasured social action ministries at Saint Luke. Our Commission helps those less fortunate by preparing and delivering 180 baskets of food, including a turkey and "all the trimmings."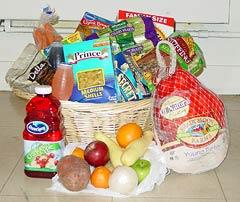 We Need Your Help. It takes over 200 parishioners to organize, build the baskets, and deliver them to those in need.
Interested in joining our group? Just click here!
Interested in purchasing a basket for a family in need? Our cost for a basket this year is $45, but you can donate any amount you would like. It's really easy to do. Just click here to buy a basket.
We need your help building the baskets on Sunday, November 22. Go to https://tinyurl.com/y4q85vcz to sign up -- we can have up to 50 people to help with this process. We will be using the North Gym to assemble the baskets. Remember - all workers need to wear facemasks – we will provide gloves – to assemble the boxes.
Baskets will be distributed on Tuesday, November 24, from 3 PM until 6:30 PM.
For more information, please contact the coordinator, Denise Purdie-Andrews.
28 Years of Thanksgiving Service to the Needed of our City!
Upcoming St. Luke Events