St. Luke is happy to provide several athletic opportunities for our parishioners. Some CYO opportunties start at grade 3, but please check out the sports and grade offerings for each sport season.
To register for CYO sports
please click THE

YELLOW

the status button
for the sport you are trying to register.
Once you have registered at St. Luke, you must then register at CYO for each sport that your athlete intends to play throughout the school year. St. Luke registration collects payment, but CYO registration ensures eligibility and that you understand all sport policies. You are able to register once at the start of the year for all sports.
St. Luke

Sports

Cost

CLICK THE YELLOW

TAB BELOW

GRADE

Athletic Pass

$50
OPEN

Boys Football

$170

OPEN
3-8th

Girls Kickball (Fall 2019)

$90

OPEN
3-8th

Co-Ed Cross Country

$80

OPEN
3-8th

Girls Basketball

$105

CLOSED

4-8th

Boys Basketball

$125

CLOSED

4-8th

Girls Volleyball

$115

CLOSED

4-8th

Boys Volleyball

$115

CLOSED

4-8th

High School Basketball

$105

CLOSED

9-12th

Boys Wrestling

$100

CLOSED

5-8th

Little Rams Wrestling

$55

CLOSED

K-4th

Co-Ed Soccer

$95

CLOSED

5-8th

Co-Ed Track & Field

$90

CLOSED

4-8th

Boys Baseball

$120

CLOSED

7 & 8th
Girls Kickball (Spring)
$90

CLOSED

3-8th

Girls Softball

$120

Upon Request

Girls Cheerleading

$50

OPEN
3-8th
4th Grade Intramural Football
$50

CLOSED

4th
If you have any registration or payment questions, please contact Jay Snyder, Director of Student Activities. If you do not already have a St. Luke account, click here to set up your web account username and password. If you do have a St. Luke account, just click on the registration below. All late registrations will be charged a $25 late fee!!
REFUND POLICY
If you register your child within the posted regular registration deadline and you decide to withdraw, you will be given a refund for the entire amount minus a $15.00 processing fee. Once evaluations have taken place and teams are drafted, NO REFUNDS will be given for withdrawals from the sport. Please note: in the case of the sports without an evaluation process (cross country, football, cheerleading, soccer, baseball, softball and track), NO REFUNDS will given once the first practice has occurred.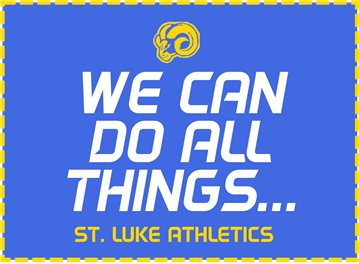 Upcoming St. Luke Events
at no charge in the St. Luke Gym