Students in Grades 8-11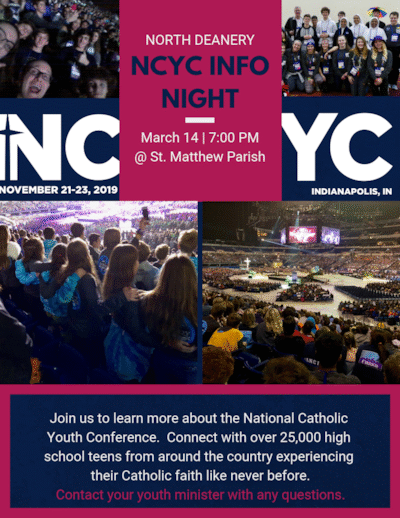 High School



Sunday Night Youth Group
March 3
7:30-8:30 pm
Fr. Courtney Reception
High School students meet for faith-sharing, games, music and more! We'll have programming 7:30-8:30pm. Those who want to socialize until 9:00pm are welcome!
ALL HIGH SCHOOL STUDENTS should mark their calendars to join us most 1st & 3rd Sundays of the month.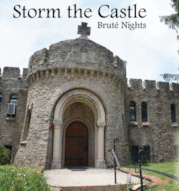 STORM THE CASTLE BRUTÉ NIGHTS
5:15 - 7:30 PM
March 27, 2019
High school men are invited to join the Bishop Bruté College Seminary Community for Storm the Castle Bruté Nights. Come to see what life in seminary is like and spend time in prayer and fellowship with our college seminarians.
Contact Therese Hartley if interested!
High School Outreach
Youth Minister Therese Hartley visits local schools and nearby locations to meet with high school students on a monthly basis. Locations are consistently being added. Contact her if you'd like your school added to the schedule.

High School Outreach Schedule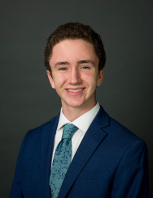 Matthias Benko receives IU Wells Scholarship
Congratulations to Bishop Chatard senior Matthias Benko, who has been offered a spot in Indiana University's 2019 class of Wells Scholars!
The Wells Scholar is recognized as one of the most competitive and prestigious merit-based scholarships awarded to undergraduates by an American university. Named in honor of the late IU Chancellor Herman B Wells, the award provides scholars automatic admittance to the IU Hutton Honors College along with full tuition, a living stipend covering room and board, and funding that covers fees and academic opportunities.
Jr. High

Jr. High Drop-In
Thursday, March 7
All parish students grades 7-8 are encouraged to attend the Jr. High Drop-In, March 7, 3:15-5:00 pm, in the Fr. Courtney Reception Room. We'll have snacks, games, and activities!
New Jr. High Ministry and Clubs!
Jr. High Sacristan Ministry
Open to All Jr. High Girls
School and Weekday Chapel Masses
Details
SERV: Students Encouraging Religious Vocations
Open to All Jr. High Students
Next Lunch Meeting: March 11
Details
Jr. High Pro-Life Club
Open to All Jr. High Students
Service Project: March 5
Details



Thanks to all who joined us for the Ski Trip on Jan 20! Refunds are currently processing for those who could not make the rescheduled date.
Please contact Therese Hartley if you have any questions.
College


L.O.C.K: LOVE OUR COLLEGE KIDS
Parents of College Age Youth: We are beginning the LOCK program to support and encourage the faith our our college age young adults. A few times each semester, we will be sending care packages to all of our young adults in college and the military.
We need:
The addresses, cell phone numbers and emails of college youth and military.
Parents to help coordnate the mailings for the months September-April.
Please contact Therese Hartey for information or to volunteer for this ministry.
---
St. Luke Phone App Now Available!
Please download the new St. Luke app in the app store for either the android phone or iphone.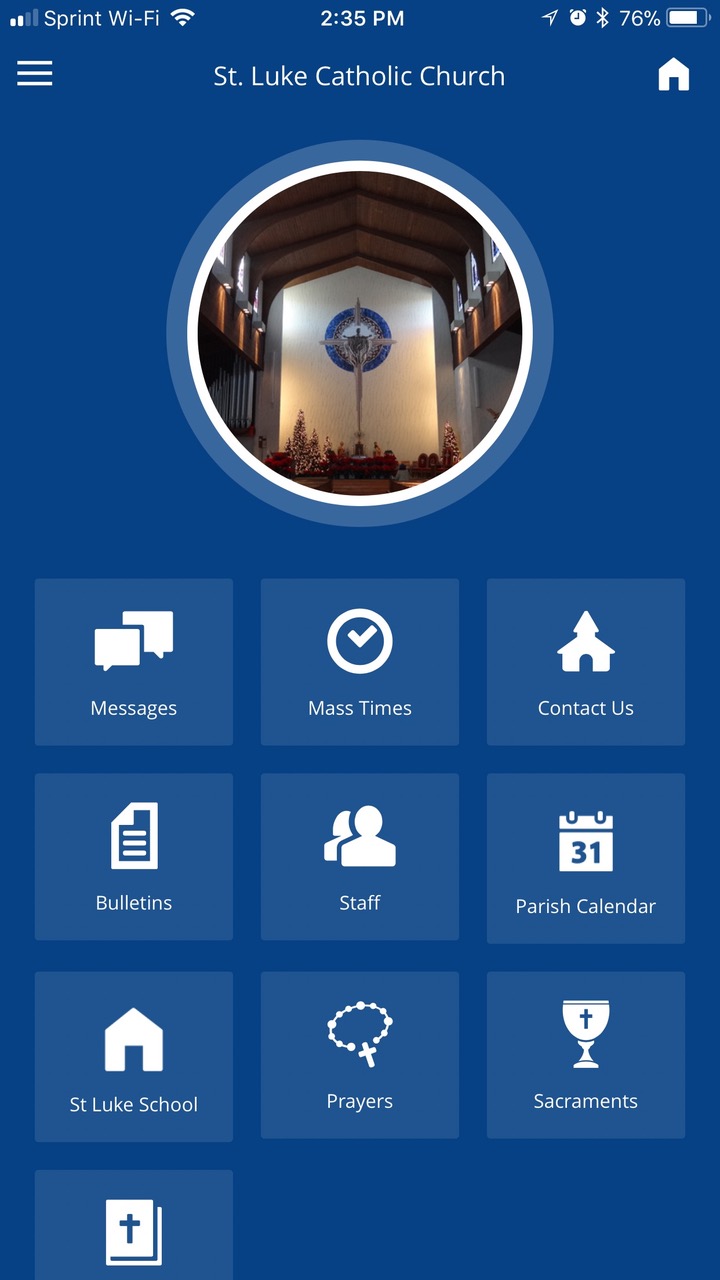 Advantages:
* Easily obtain St. Luke info
* Immediate Access to Staff
* Convenient Bulletin retrieval
* Spiritual Enrichment at your fingertips

Most importantly, the app offers the ability to receive push notifications for St. Luke in general or only your desired ministries (Youth Ministry!). You can sign up for notifications for as many ministries as you want or none at all.
Youth Ministry information and updates will be communicated through the app, especially last minute event changes!
For more information, visit stluke.org, or contact Ronni Miller @ 317-259-4373 rmiller@stluke.org,
_________________________________
Questions about Youth Ministry?
Email Therese Hartley or call at
317-259-4373 x 248 (w) or 317-432-2059 (c).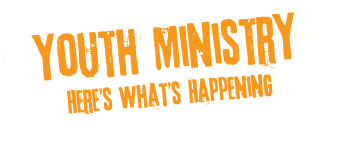 CONTACT INFORMATION
All Jr. High and High School youth are asked to please keep contact information up to date. Please click here to update any changes.
Upcoming St. Luke Events