Jr. High & High School Service opportunity


Don't wait to fulfill service hours your school or groups require!

Beggars for the Poor
Sat, April 21,
7:45 -11:30 AM
"Beggars for the Poor" is a special ministry ofthe Indianapolis Society of St. Vincent de Paul.
Volunteers meet at St. Luke before heading to the Cathedral soup kitchen to prepare food and sort clothes. They load a truck and go downtown to provide 100 -150 homeless men with food, coffee, clothing, personal hygiene items, and a friendly smile.
Contact Therese Hartley if you are interested. Limited spots available. Safe & Sacred-certified chaperones are needed, too.
Try Prayer! It Works! Art Contest
Calling all young people with artistic talent!
This contest is for you!
The "Try Prayer! It Works!" Contest has returned for 2018 and students are urged to send in their entries now. Deadline for the national competition is May 1.
Sponsored by Family Rosary, the 2018 "Try Prayer! It Works!" Contest encourages children to participate in an inspiring faith experience as they express their beliefs through art, poetry and prose. The competition is open to students in Grades K-12 enrolled in a Catholic school, religious education program, Parish or other organization, including home school.
This year's theme "Mary, the New Eve" helps families reflect on God's call for their lives and to discuss the importance of our Blessed Mother Mary.The first place winner in each category and their sponsor each receive $100.
Try this short lesson and reflection parents can do at home with their child before embarking on their art project.
For more information, go to FamilyRosary.org. All entries must be postmarked by May 1, 2018. Questions? Call Holy Cross Family Ministries at 800-299-PRAY (7729).

reasoned arguments or writings in
justification of something, typically
a theory or religious doctrine
April 29 & May 6
7:00 PM
Many Catholics have questions about the faith and don't know how to respond to those who challenge the Church. In this 2-night series, catechist Matt Behringer will explore ways to answer common questions about Catholic teachings in a way that promises to strengthen our own faith as well.
Recommended for 8th grade and high school students!
High School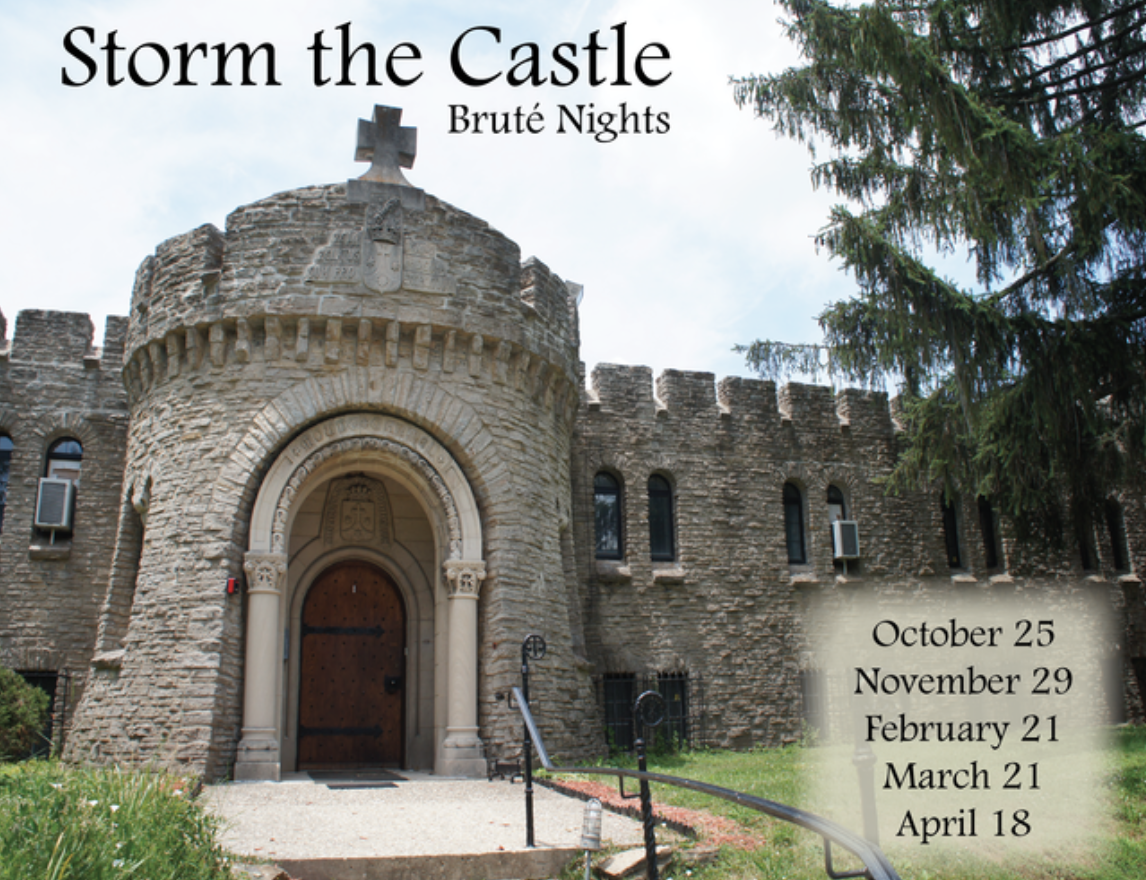 Wed, April 18


5-7pm
Simon Brute College Seminary
Join St. Luke at Storm the Castle for high school boys.
See life at Bishop Simon Brute College Seminary. Enjoy dinner w/the seminarians, a sharing of their vocational calling, and tour of the facility.
Contact Therese Hartley to reserve your spot in the group.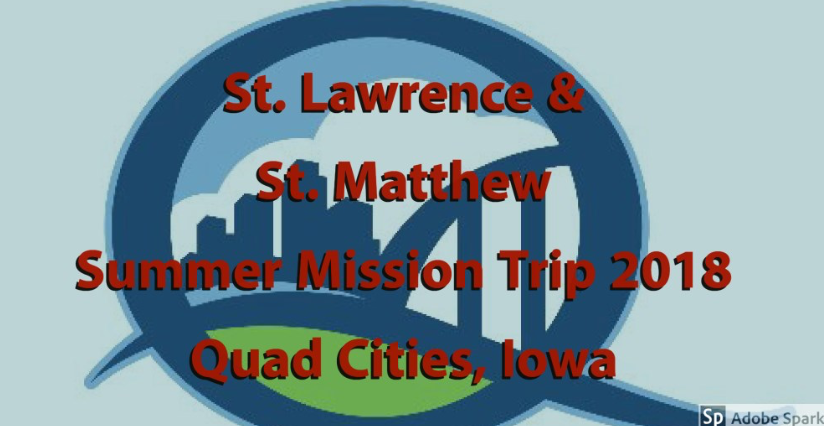 Who: All High School Students currently in grades 9-12 (2017-18)
What: A week long experience to meet other faith filled teens and
help serve in a community in need!
When: Sunday, June 17th to Saturday, June 23rd, 2018
Where: Quad Cities, Iowa Cost: $450 per person.
Details here or by contacting Cari Weibel at cweibel@stlawrence.net or cweibel@saintmatt.org.
JR. HIGH
NDYMA 2017-2018 8th Grade Scholarship Award
The North Deanery Youth Ministry Association, a collaboration between the ten North Deanery Parishes, along with financial support from the North Deanery Priests; awards a scholarship to an 8th Grade Student at each parish. This award is presented to an outstanding young person who will be a freshman, at any high school, in the fall.
The $200.00 scholarship is to be used at an Archdiocesan, Deanery, or Parish-sponsored spiritual event, during your Freshman or Sophomore year.
Completed applications are due Tuesday, May 1, 2018.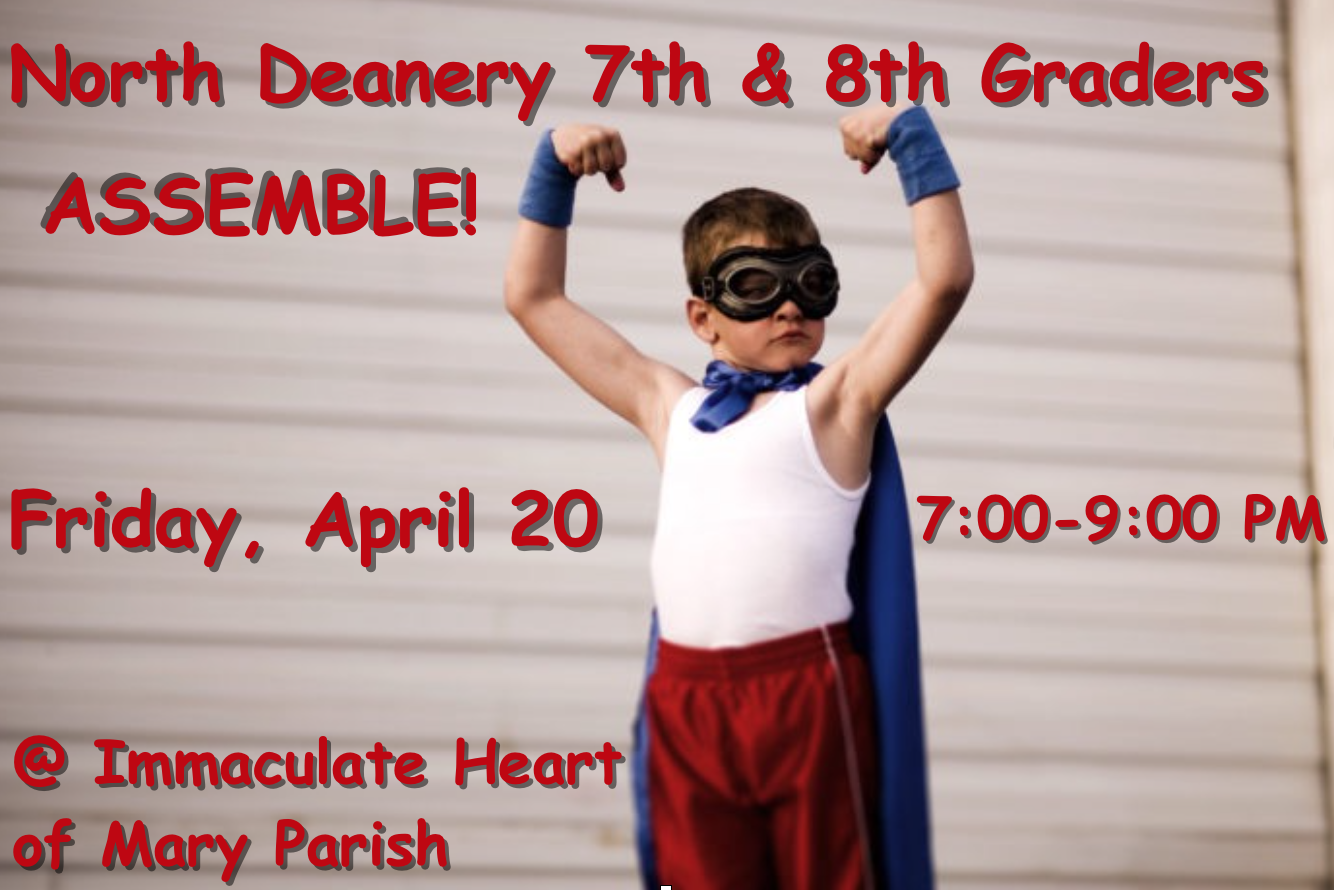 North Deanery Jr. High Gathering
Friday, April 20
7-9:00 PM
Immaculate Heart of Mary
Permission Slip
Join other North Deanery teens to show off your super hero costumes, super dance moves, super skills in various games, and super service through donating canned goods.
Prizes will be awarded for best super hero costumes!
Cost: $5.00 admission AND a canned food item.
Jr. High Drop-In
Last one of the year!
Thursday, May 3
All parish students grades 7-8 are encouraged to attend the Jr. High Drop-In, May 3, 3:15-5:00 pm, in the Fr. Courtney Reception Room. We'll have snacks, games, and activities to wrap up the school year!
Questions about Youth Ministry?
Email Therese Hartley or call at
317-259-4373 x 248 (w) or 317-432-2059 (c).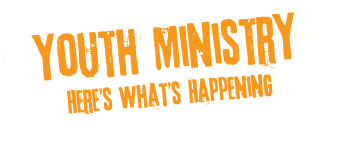 CONTACT INFORMATION
All Jr. High and High School youth are asked to please keep contact information up to date. Please click here to update any changes.
Upcoming St. Luke Events