Coronavirus Updates
Msgr. Schaedel's March 17, 2020 Letter
Archbishop Thompson's Statement Regarding Holy Week 2020

Archbishop Thompson's Statement on Confession

High School
Join us as we virtually gather to experience LifeTeen and a unique discussion amongst our St. Luke Youth Ministry family!
Click the links above and test your computers beforehand so we don't miss you. Looking forward to seeing all of you through Zoom!

Jr. High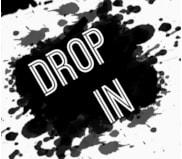 Jr. High Drop-In
Mondays beginning Mar 30
3:00 pm - 7th Grade
Zoom Meeting ID: 680-983-442
4:00 pm - 8th Grade
Zoom Meeting ID: 914-953-829

Let's Drop-In virtually! Gather with us weekly to catch up with friends and share our lives during this quarantine. Click the links above and test your computers beforehand so we don't miss you. Looking forward to seeing all of you through Zoom!
NDYMA 2019-20 8th Grade Scholarship Award
Applications Due: April 20, 2020
The North Deanery Youth Ministry Association, a collaboration between the ten North Deanery Parishes, along with financial support from the North Deanery Priests; awards up to 10 scholarships to North Deanery 8th Grade Students. This award is presented to an outstanding young person who will be a freshman, at any high school, in the fall.
The $200.00 scholarship is to be used at an Archdiocesan, Deanery, or Parish-sponsored spiritual event, during your Freshman or Sophomore year.
Your completed application packet must be turned in to Therese Hartley, via email, no later than: Monday, April 20, 2020.
Boys and Girls Programs

Bad Boys of the Bible
Jr & Sr High School Boys
Tuesdays 7:00-8:00p
Zoom: Meeting ID 909-855-669
Join us as we explore imperfect men that God chose to change the world! Parents welcome.

Queen Bees & Wannabes
Jr & Sr High School Girls
Thursdays 7:00-8:00p
Zoom: Mtg ID 718-943-835
Connect with biblical heroines who are a source of hope, inspiration, direction and fulfillment! Parents welcome.
Spiritual Resources
Click on site or image for link!

LifeTeen.com
Formed.org
Youtube.com - Emily Wilson, Fr. Mike Schmitz, Fr. Donald Calloway, Fr. Robert Barron,
archindy.org
Divine Mercy Chaplet w/Steve Angrisano
Daily, 3:00 PM

Sunday Concerts w/Sarah Hart
Sundays 8:00 PM (Indianapolis Time)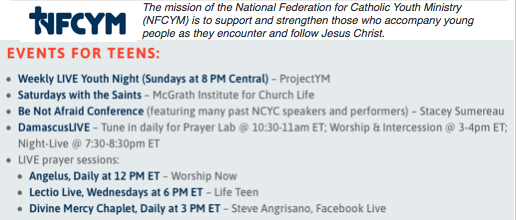 Ad Altare Dei Meetings
St. Luke Scout Group meetings continue virtually through Zoom Group Meeting ID:607-481-649.
College



L.O.C.K: LOVE OUR COLLEGE KIDS
College Age Youth: We are beginning the LOCK program to support and encourage the faith our our college age young adults. A few times each semester, we will be sending care packages to all of our young adults in college and the military.
We need:
The addresses, cell phone numbers and emails of college youth and military.
Parents to help coordnate the mailings for the months September-April.
Please contact Therese Hartey for information or to volunteer for this ministry.
_________________________________
More info about Youth Ministry?

thartley@stluke.org



317-259-4373 x 248 (w) or 317-432-2059 (c)


CONTACT INFORMATION
All Jr. High and High School youth are asked to please keep contact information up to date. Please click here to update any changes.
YOUTH MINISTRY CALENDAR
April
5 High School Youth Night
5:00p LifeTeen Global Night
Facebook Live
5:30p St. Luke Youth Group
Zoom: Mtg ID 607-481-649
6 Jr. High Virtual Drop-Ins
3:00p 7th Grade
Zoom: Mtg ID 680-983-442
4:00p 8th Grade
Zoom: Mtg ID 914-953-829
7 Bad Boys of the Bible
Jr & Sr High School Boys
Tuesdays 7:00-8:00p
Zoom: Mtg ID 909-855-669
9 Queen Bees & Wannabes
Jr & Sr High School Girls
Thursdays 7:00-8:00p
Zoom: Mtg ID 718-943-835
12 High School Youth Night
5:00p LifeTeen Global Night
Facebook Live
5:30p St. Luke Youth Group
Zoom: Mtg ID 607-481-649
13 Jr. High Virtual Drop-Ins
3:00p 7th Grade
Zoom: Mtg ID 680-983-442
4:00p 8th Grade
Zoom: Mtg ID 914-953-829
14 Bad Boys of the Bible
Jr & Sr High School Boys
Tuesdays 7:00-8:00p
Zoom: Mtg ID 909-855-669
16 Queen Bees & Wannabes
Jr & Sr High School Girls
Thursdays 7:00-8:00p
Zoom: Mtg ID 718-943-835
19 High School Youth Night
5:00p LifeTeen Global Night
Facebook Live
5:30p St. Luke Youth Group
Zoom: Mtg ID 607-481-649
20 Jr. High Virtual Drop-Ins
3:00p 7th Grade
Zoom: Mtg ID 680-983-442
4:00p 8th Grade
Zoom: Mtg ID 914-953-829
21 Bad Boys of the Bible
Jr & Sr High School Boys
Tuesdays 7:00-8:00p
Zoom: Mtg ID 909-855-669
23 Queen Bees & Wannabes
Jr & Sr High School Girls
Thursdays 7:00-8:00p
Zoom: Mtg ID 718-943-835
26 High School Youth Night
5:00p LifeTeen Global Night
Facebook Live
5:30p St. Luke Youth Group
Zoom: Mtg ID 607-481-649
27 Jr. High Virtual Drop-Ins
3:00p 7th Grade
Zoom: Mtg ID 680-983-442
4:00p 8th Grade
Zoom: Mtg ID 914-953-829
28 Bad Boys of the Bible
Jr & Sr High School Boys
Tuesdays 7:00-8:00p
Zoom: Mtg ID 909-855-669
30 Queen Bees & Wannabes
Jr & Sr High School Girls
Thursdays 7:00-8:00p
Zoom: Mtg ID 718-943-835
Upcoming St. Luke Events