Jr. High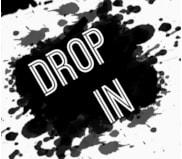 Jr. High Drop-In
Mondays beginning Mar 30

4:00 pm - 8th Grade
Zoom Meeting ID: 914-953-829

Let's Drop-In virtually! Gather with us weekly to catch up with friends and share our lives during this quarantine. Click the links above and test your computers beforehand so we don't miss you. Looking forward to seeing all of you through Zoom!
High School Boys and Girls Programs

Bad Boys of the Bible
Jr & Sr High School Boys
Tuesdays 7:00-8:00p
Zoom: Meeting ID 909-855-669
Join us as we explore imperfect men that God chose to change the world! Parents welcome.

Queen Bees & Wannabes
Jr & Sr High School Girls
Thursdays 7:00-8:00p
Zoom: Mtg ID 723 9981 8756
Connect with biblical heroines who are a source of hope, inspiration, direction and fulfillment! Parents welcome.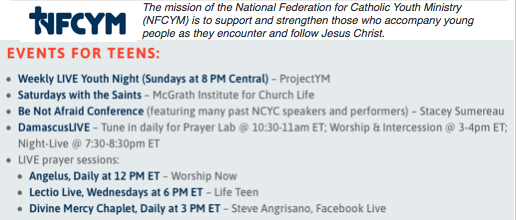 Ad Altare Dei Meetings
St. Luke Scout Group meetings continue virtually through Zoom Group Meeting 541-495-645
College



L.O.C.K: LOVE OUR COLLEGE KIDS
College Age Youth: We are beginning the LOCK program to support and encourage the faith our our college age young adults. A few times each semester, we will be sending care packages to all of our young adults in college and the military.
We need:
The addresses, cell phone numbers and emails of college youth and military.
Parents to help coordnate the mailings for the months September-April.
Please contact Therese Hartey for information or to volunteer for this ministry.
_________________________________
More info about Youth Ministry?

thartley@stluke.org



317-259-4373 x 248 (w) or 317-432-2059 (c)


CONTACT INFORMATION
All Jr. High and High School youth are asked to please keep contact information up to date. Please click here to update any changes.
Upcoming St. Luke Events