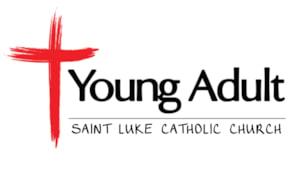 St. Luke Young Adult Evenings
Mass - Faith Sharing - Dinner
Tuesdays, Beginning Oct 1
Parish Staff Lounge (Location subject to change)d
5:30 - 9:00

All Adults Ages 21-35 "ish" should visit our table this weekend in the Narthex after all Masses. Anyone interested in learning about our upcoming events should stop by and introduce yourself!

Our first Young Adult Evening is Tues, Oct 1. We hope to see you there! For more info, contact Therese Hartley.
Archdiocesan Young Adult Opportunities available at:



indycatholic.org

INDY Catholic Bowling League
Tuesday night and Wednesday night leagues - sign up for one or both!
Tuesdays: Oct 15th - Dec 10th (skip week of Thanksgiving)
Wednesdays: Oct 16th - Dec 11th (skip week of Thanksgiving)
Registration is officially open at indycatholic.org/bowling! Join us as the weather gets colder for this fun, social activity. No skills required!
First Friday Adoration + Dinner
Fri, Oct 4
St. Mark Catholic Church
535 E Edgewood Ave, Indianapolis, IN 46227
7:00 - 9:00pm
Whether you have a daily prayer life or don't even know where to begin when it comes to prayer, you are welcome at First Friday Adoration. From 7-8pm, there will be silent time, praise and worship music, and an opportunity to go to confession. For your participation, we provide an adoration pamphlet, a prayerful reflection guide, and song sheets. Our hour of prayer is followed by dinner hosted by the young adults at the parish. Details at IndyCatholic.org.
_________________________________________
Young Adult Ministry
Parishioners ages 21-35
Therese Hartley
Director of Youth and Young Adult Ministries
thartley@stluke.org
317.259.4373 x248
317.432.2059 (c)

stlukecatholic_indyya

St. Luke Catholic Church, Indianapolis
Upcoming St. Luke Events
at See Discription - Various Events