St. Luke Catholic Church Presents
A Rerun of the Beatitudes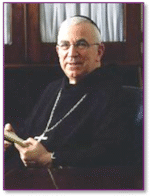 Benedictine preacher, teacher and former archabbot of St. Meinrad, Abbot Lambert Reilly, O.S.B., has distinguished himself as retreat director and speaker on issues of spirituality and prayer for more than 50 years.
He is the author of two books, Because There is Jesus (Abbey Press, 1997), a collection of homilies and conferences; and Latin Sayings for Spiritual Growth (Our Sunday Visitor Press, 2001), a compilation on his favorite Latin sayings and New Testament quotes.
Parish Evenings of Reflection at St. Luke
Wednesday, March 27, April 3 and 10
Join us for Mass at 5:30 followed by a simple soup supper.
Abbot Lambert Reilly will speak from 7:00 to 8:00 p.m.
Registration not required, but to plan for food and seating, email dcarollo@stluke.org