St. Luke Catholic School proudly prsents our...
2019 - 2020 Spring Musical
This site will continually be updated as new information is available...
Rising Stars Registration is now live below!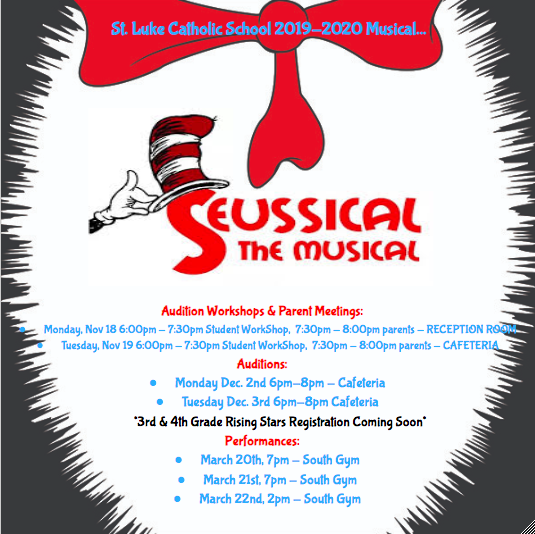 Addtional Helpful Information:
Rising Stars (3rd & 4th Grades)
Cost will be $125
Workshop and Information on Flyer does NOT apply
Rehearsals:

Tuesdays or Thursdays, 3:15 - 4:15 in the cafeteria
Tuesday (Red Fish) perform Thursday 19th (Invited Dress Rehearsal), Saturday the 21st and Monday the 23rd (School Performance During the Day)
Thursday (Blue Fish) perform Friday the 20th and Sunday the 22nd

The weekly sessions will include instruction by experienced children's directors in general acting, singing, and performing skills as well as specific instruction and rehearsals for Seussical the Musical. The Rising Stars will perform multiple times throughout the musical.
Tech Week Committment:

Tuesday, March 17th 7:00 - 9:00 pm (Red Fish)
Wednesday, March 18th 7:00 - 9:00pm (Blue Fish)

Ready to Register?
CLICK HERE TO REGISTER FOR TUESDAYS (RED FISH)
Click Here to Register for Thursdays (Blue Fish)
Cast (Grades 5th - 8th):
Cost will be $125
Workshop and Audition Information on Flyer applies
Only one Audition Workshop and one Parent Meeting needs to be attended
Students will sign up for an audition slot at the Audition Workshop(s)
December 7th students will be informed of their roles
December 9th scripts passed out at school once role has been accepted, contracts signed and cast announced to the school
Rehearsals

Monday, 3:30 - 5pm in the cafeteria
Tuesday, 6:00 - 7:30pm in the cafeteria
Wednesday, 3:30 - 5:00pm in the Music Room

Tech Week Committment

Monday March 16th, 7:00 - 9:00pm
Tuesday, March 17th, 7:00 - 9:00pm
Wednesday, March 18th, 7:00 - 9:00pm
Upcoming St. Luke Events
at St. Luke Catholic School
at St. Luke Catholic School